Leadless pacemakers linked to fewer complications than traditional devices
Thursday 5th July 2018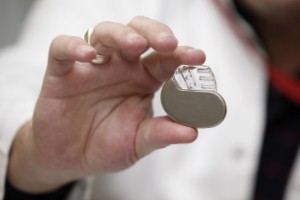 Latest Jobs
The advent of leadless pacemaker technology has the potential to reduce the number of complications faced by heart surgery patients, according to a new study.

Research from the Cleveland Clinic compared rates of short and mid-term complications between 718 patients receiving Nanostim leadless pacemakers and 1,436 patients with conventional transvenous pacemakers, revealing that the newer technology offered a number of benefits.

Conventional pacemakers are surgically placed under the skin of a patient's chest, with wires stretching from the shoulder vein and attaching to the heart. These leads, and the process of surgically implanting them, are common causes of complications, occurring in up to 12 per cent of recipients.

Leadless pacemakers are able to minimise these risks, omitting the need for wires by being implanted directly into the heart using a catheter passed through the femoral vein in the leg. These self-contained devices are around ten per cent of the size of a traditional pacemaker, and remain a relatively new innovation.

The Cleveland Clinic study indicated that patients receiving leadless pacemakers experienced fewer complications after one month, with the newer devices completely eliminating lead and pocket complications, including infections. However, a rise in the risk of pericardial effusions was also observed, with these incidents sometimes requiring surgery to treat.

When assessed for up to 18 months of follow-up, leadless pacemaker patients continued to experience overall fewer complications, with a number of complications - including lead-related complications, electrode dislodgement, infection and pocket complications - wholly absent from this group.

Study leader Daniel Cantillon, research director for cardiac electrophysiology and pacing at the Cleveland Clinic, said: "The data from this study is encouraging, and we expect complications from leadless pacemakers to continue to decline as the technology improves and physicians gain experience implanting these devices.

"While this research shows benefit for leadless pacing, we must keep in mind that the field is still too young to compare the long-term results of this technology, the implications of which will not be fully understood for at least another decade."

Written by Mathew Horton

Mediplacements is a genuine specialist medical recruitment company. Contact us to see the latest cardiology jobs.
Related News